Discover more from INDIGNITY
Essays, inquiries, arguments, advice, and archaic sandwiches for hungry readers.
Over 5,000 subscribers
Hmm Weekly for February 4, 2020
It is always Tuesday somewhere
Another Week, Another Hmm Weekly
GOOD MORNING! This is the latest communicable transmission of HMM WEEKLY, the successor publication to HMM DAILY, distributed via SUBSTACK, a newsletter delivery and reading platform. We are currently posting items FREE TO ALL, in gratitude to those of you who previously financially supported HMM DAILY or those of you who merely expressed interest in it.
Later this month, we will begin offering paid subscriptions for full access to future HMM WEEKLY posts, with intermittent postings available free. Former financial supporters of HMM DAILY, whose billing was disconnected this month, may reconnect to resume their financial support then.
We appreciate your interest in HMM WEEKLY. Please send your questions, comments, gossip, or whatever else you may want to express to hmmweekly@hmmweekly.com. We will keep sending you these emails; please write back. Maybe we'll end up with a Letters Column!
If someone has passed along this message, it's easy to sign up for yourself.
We urge you to spread the word about HMM WEEKLY, and we thank you for reading.
---
THOUGHT DEP'T.

—Dominic Scocca-Ho
Do you think you have a thought? Write us at hmmweekly@hmmweekly.com
---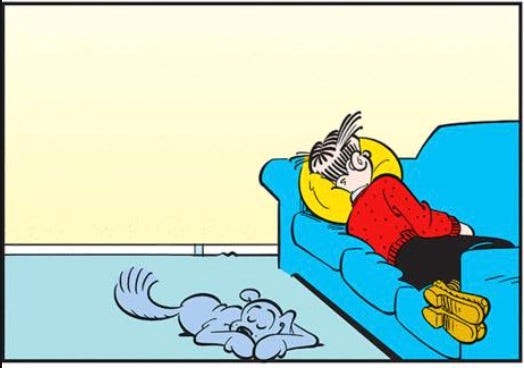 HEALTH DEP'T.
Everybody Should Take a Sick Day, for a Week
WHEN'S THE LAST time everybody around you was healthy, or at least free from infectious disease? It's wearying when people try to counteract the coronavirus news by pointing out that the flu is worse and the flu is here already; every year they try to tell the public how bad the flu is, and by now the public surely has heard it and filed it away, but it doesn't register as a true thing. It's like car-crash deaths or global warming—too big to admit it's in the foreground, which would mean rearranging everyone's lives around the truth of it, so people act like it's just in the background.
Some background! How many members of your household or your "team" at work were out sick last week? It's not only the flu, or if it is, it's highly variable. Word from some homes or workplaces is they're doing the thing where everybody takes turns puking; from others, everybody's taking turns coughing and being feverish. We've been lucky in our family unit (to this point), with only a single case of cough-and-fever last week. My workplace last week was just a virtual roll call of the sick on Slack, which was fine, since I was doing my job from home to keep a eye, and an occasional cold washcloth, on the sick kid.
We sent the one who'd been sick back to school Monday, and he did fine but we got a class announcement email that began by noting "a surprising number of absences today." The other kid had a substitute teacher for humanities class. My own health had become a mystery to me, after all the hours indoors with the sick child and the droning livestream of the impeachment trial. Normally, when I'm home, I walk over to Columbus Avenue for a cup of late morning or midday coffee, but something sour and tired was lurking in my system and the idea of coffee felt insalubrious. I drank tea and stayed inside, and around sundown every day, as the impeachment jabbered on, I felt like maybe I might be simmering a fever of my own. Our temple thermometer is basically a random-number generator, and sometimes when I wasn't using it on the child, I pointed at my own head a couple of times and got a 99. Not long ago the news was that everybody's normal temperature has dropped, and old 98.6 (which was always just a fake-precise gloss on 37 Celsius) was too warm.
Monday, I did walk out. The weather, for sure, was running too many degrees above normal, but the sunshine was the closest thing to wholesome I'd encountered in a while. I went on past the coffee place and six more blocks to the bakery, where I threw in a cafe au lait with the order. The shadow of discomfort faded for a while, but it didn't leave.
I wasn't sick; I was run down. Who isn't, right now? I'd be fine if I slept one long night's sleep, and maybe took another nap the next day, if I were trying to solve the problem in isolation, but it's not an isolated problem. There's more to herd immunity than the flu shot, though you should get the flu shot. Disease walks among us and everyone is making themselves sick, or making everyone else sick; it's all the same thing, at this point. Shut it down, take a day, take five days, make it nine days with a weekend at each end. Essential personnel only, like when the government runs itself out of money. Let the senators go home. Not to New Hampshire or Nevada—home. The future can be dealt with later, around Valentine's Day, when everybody's on their feet again. Meanwhile, wash your hands.
---
VISUAL CONSCIOUSNESS DEP'T.
Items from the estate of my dear departed sister-in-law, Karma Ward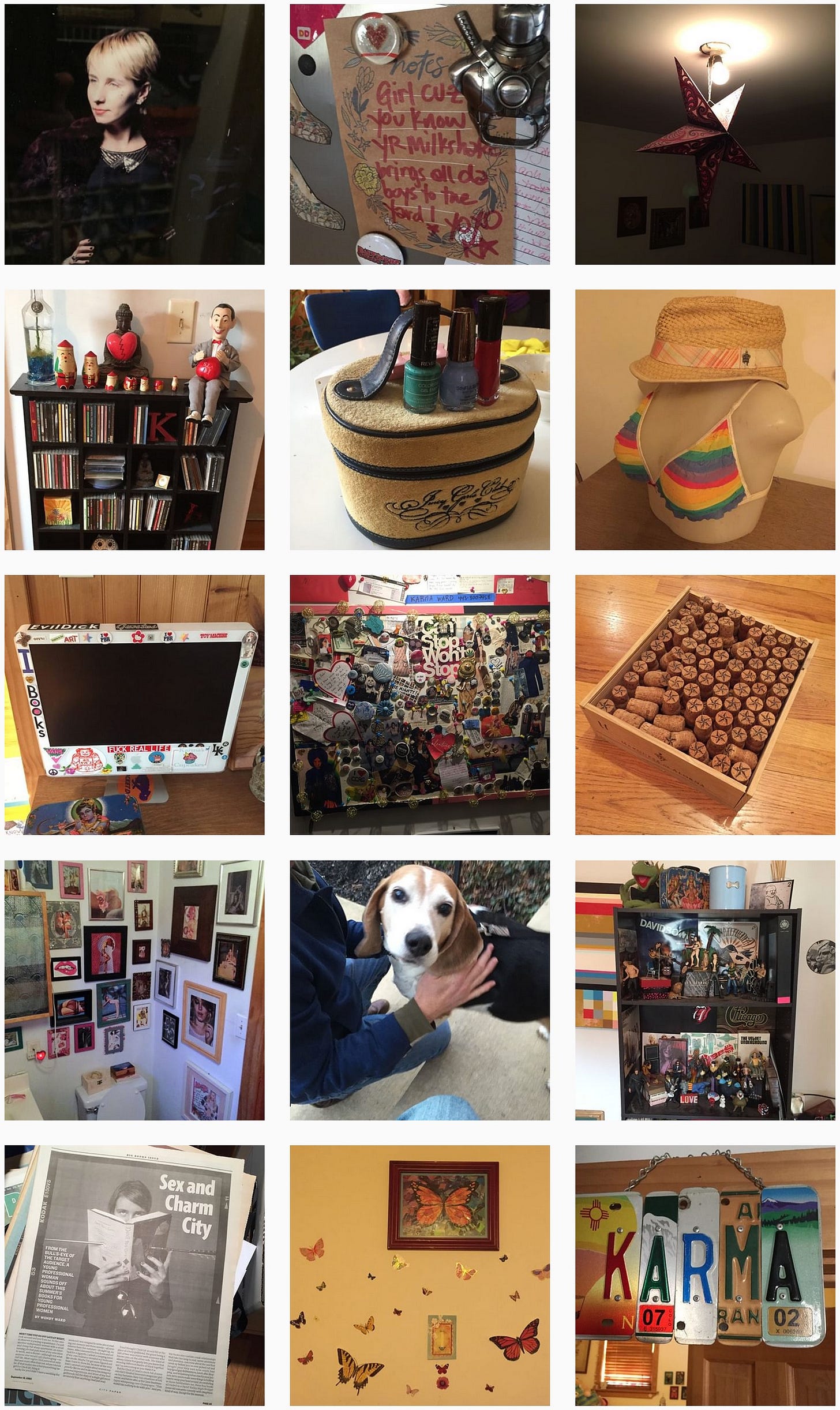 YOU CAN FOLLOW hmmweeklygram on Instagram.
---
RECIPES DEP'T.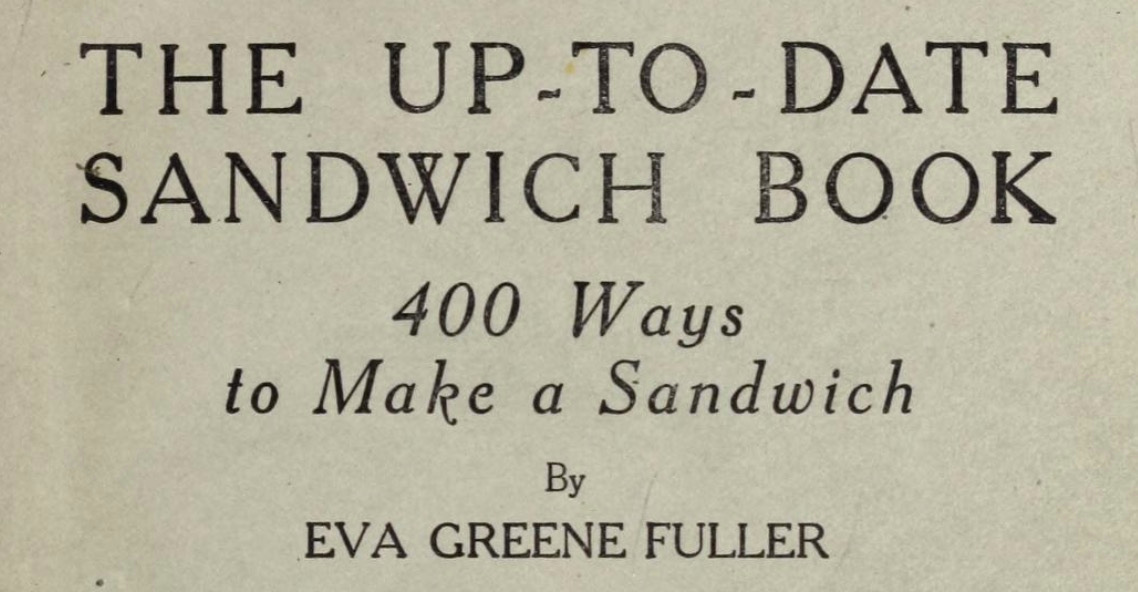 WE INSIST ON presenting a selection of recipes for ancient but reproducible sandwiches, found in The Up-To-Date Sandwich Book: 400 Ways to Make a Sandwich, by Eva Greene Fuller; 1909; McClurg and Co., Chicago, now in the public domain for the delectation of all.
PRESSED CHICKEN SANDWICH
Boil fowl until tender; remove bones and skin; chop fine; season with salt, pepper, and sage to taste. Mix teaspoonful of mustard with a tablespoonful of vinegar, heat and pour over chicken, with some of the broth, and press in earthen dish. When cold and ready for use, slice and place between thin, lightly buttered bread with a crisp lettuce leaf between.
JELLIED CHICKEN SANDWICH
Chop the white meat of cold boiled chicken fine, rub to a paste. Put a scant tablespoonful of gelatine in a half-cup of cold water, place it over the fire until it has dissolved; then add the chicken paste, a dash of salt and pepper, and a half-teaspoonful of grated horseradish. Stir this mixture until it begins to thicken, then stir in one cup of cream that has been whipped to a stiff froth, place it in the ice box until very cold; when ready for use, cut thin and place between lightly buttered slices of crustless white bread. Garnish with parsley and an olive.
CHICKEN AND EGG SANDWICH
One cupful of cold chicken chopped fine; the yolks of two hard-boiled eggs chopped fine; one teaspoonful of melted butter, one teaspoonful of lemon juice, one teaspoonful of rich stock, and salt and pepper to taste. Mix to a paste and spread on thin slices of lightly buttered white bread. Garnish with an olive.
If you make one of these sandwiches, before you eat it, please send a picture to hmmweekly@substack.com
---
HMM WEEKLY IS written by Tom Scocca, editor, and Joe MacLeod, creative director. If you enjoy Hmm Weekly, please let a friend know about it, and if you're reading this because someone forwarded it to you, go ahead and sign up for a copy of your own right now.
Thanks for reading, and any time you want, you can email us at hmmweekly@substack.com.