JOIN US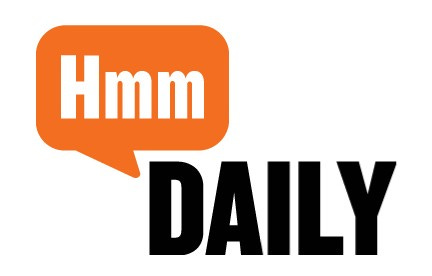 The Second Best Email We Wrote This Past Weekend
Good morning! Here is a new edition of Hmm Weekly, the weekly newsletter of Hmm Daily. A concerned reader brought to our attention, after Issue No. 1, that we had maybe not explained, in his words, "what even is this"—since, being inside it, it all seemed evident to us.

So for Issue No. 2: Hmm Daily is a website in the Civil Network, offering commentary and news and other things. This email newsletter is written by Tom Scocca, the editor of Hmm Daily, and Joe MacLeod, the creative director.

Our membership drive, complete with graduated tiers of incentives and awards, continues. Please support our work! After Hmm Weekly No. 4, the newsletters will be emailed to Hmm Daily members only. There is still time to join!

Also, if you enjoy this newsletter, please share it with a friend, and if you're reading this because someone forwarded this to you, you can sign up for a copy of your own at the bottom of our home page here.

---
A THICK WARM BEVERAGE FROM BEYOND THE INTERNET EVENT HORIZON
Total Eclipse of the Eggiot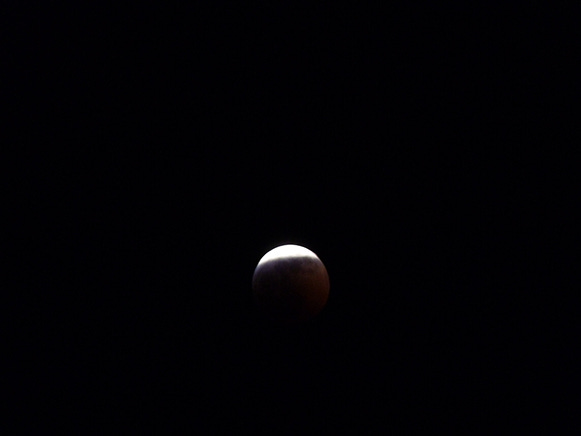 The moon was better being than total and red-washed; it was not quite there yet, with one dwindling edge still bright silver, so in the binoculars it was globular, astonishing. I had gotten the older boy back up out of bed, on the third or fourth try—he'd made it certain hours before, while still clear-headed and awake, that he did not want to miss out—and helped him put clothes over his pajamas and found his glasses for him. I'd been afraid we would have to go hunting for the moon, around buildings and over and down the avenues, but it was right overhead, outside the door, nothing to it.

While I'd waited, I had tried to make eggiot. Eggiot is a hot drink, milk and egg and sugar—booze-free eggnog, basically, I guess, though for some reason I'd never thought of it on those terms. It was just eggiot. I hadn't made it in years, maybe decades, but I failed to get around to making or even buying eggnog over the holidays, and that regret in these cold but now unfestive days had turned into the memory of the hot drink.

I Googled it to remind myself of how it went, the way I usually do with stuff I'm out of practice on, to get a look at an assortment of eggiot recipes and average them out to a theory of what to do. I got—nothing. A random gross Urban Dictionary entry that had nothing to do with warm drinks, various other gabble, nothing to suggest that eggiot was a thing that existed. I knew it existed. I had been carrying it around in my brain for years and years.

I dug deeper and hit two, and only two, old cookbooks online. They appeared to be using the same text, a set of old Cornish recipes. One recipe called for blending an egg with sugar and pouring hot milk into it; the other two ("eggy'ot" and "egy'ot") involved hot beer or ale.

The egg-and-milk one was what I knew, but why didn't anyone else know it? How was this fact I knew about the world not a fact in general circulation? I had read it in the newspaper, I was sure. I went to the website of every newspaper I could remember subscribing to and used their search boxes: the Sunpapers, the New York Times, the Boston Globe, the Washington Post. Still nothing. Did I mean "Eliot"? (No.) "Eggert"? (Certainly not.)

Finally I tried the separate newspaper archive that the old Sunpapers are in, signing up and putting in a credit card for a free trial. Eggiot... The Evening Sun, Wednesday, January 28, 1987. "Hot drinks for cold days," all over the front of the Food section. "Reception Chocolate"..."Old-Fashioned Hot Chocolate"..."Eggiot"

A simple non-alcoholic hot drink is eggiot, native to Cornwall, England. It is nourishing and a quick pick-me-up, in addition to being a good warmer-upper
1 egg

1 teaspoon sugar

1/2 pint milk
Beat the egg with the sugar in a mug, then heat the milk. Before it reaches the boiling point, pour milk into the egg-sugar mixture, stirring as you pour. Add a sprinkling of ground cinnamon or nutmeg, if you like.

That was it. I had read it on page G1 of the Evening Sun at age 15 and automatically assumed I was taking hold of a piece of the world's collective knowledge. Instead, I had picked up some Cornish esoterica that would all but miss the cut for the official ledger, when the official ledger was built.

But now I had crossed over from Internet Knowledge into a different realm of information, an archive of my personal and private sources. I knew what I was looking for next. It had changed my life, and I had even made a run or two at trying to find it before, when the archive resources were even worse. Now I put in the keywords and there it was, Evening Sun, December 30, 1988. The 1988 Evening Sun Critics Poll for pop and jazz.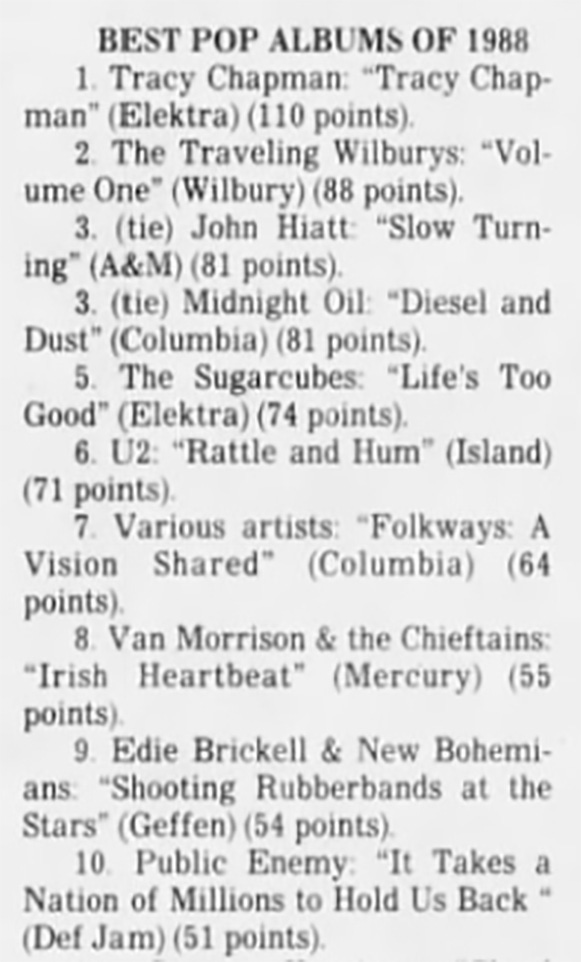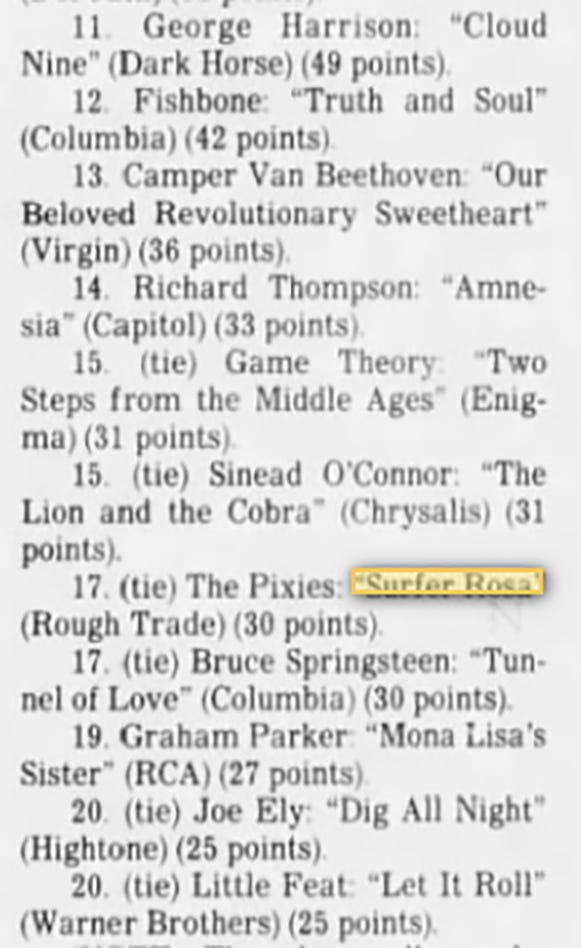 The list was an odd and characteristic-of-the-moment mixture of warhorses—the Traveling Wilburys, Van Morrison, holdover Springsteen and George Harrison albums from the year before—and artists who'd broken through, or not broken through, to the top 40 or Saturday Night Live after I'd first heard them on the airwaves of the one good weird station we had, from Annapolis. Tracy Chapman was No. 1. The Sugarcubes, Sinead O'Connor, Fishbone, Edie Brickell. And down at No. 17 (tied with the leftover Springsteen) was a record I'd never heard of at all, Surfer Rosa, by a band I'd never heard of at all, the Pixies.

It was "a ghostly, angular post-punk disc," the accompanying article said. Not long after that (less than three weeks, according to the journal of my senior year I had to keep for creative writing class, which I recovered from the basement over New Year's) down at the good record store in Baltimore, I was flipping through the P's in search of Rum Sodomy & the Lash, and it wasn't there but this one was. Based on nothing but what I'd read in that newspaper, I got it, and played it through headphones, and a lot of things would change for teenaged me over the next few months (at an unimaginable pace, as recorded in that journal), but that was one of the things that changed.

I go on and on about this, boring the digital natives, but the rules and pace of cultural transmission were completely and unrecognizably different then. I'm sure nobody within a 10-mile radius was listening to Surfer Rosa that January, probably 15 miles, maybe 20. All over America, in radii of isolation, teens were listening to the Minutemen or Throwing Muses like they were samizdat smuggled into a regime that denied the existence of such things. I saw once the babies at Pitchfork writing up their best of the '80s refer to "Where Is My Mind?" as "one of the bigger hits off of Surfer Rosa" and I came a little unglued at the sheer confidence of the false history, the complete incomprehension that Surfer Rosa and "hits" had belonged to entirely different universes.

But so waiting for the eclipse to really get going, I set out to make the eggiot. I used half-and-half for part of the milk, and warmed it up on the stove while I used the tiny whisk to beat the egg and the sugar in the mug. I thought about just putting the egg in the saucepan, for safety's sake, then decided against it, then got another qualm when I ladled the hot milk into the mug and checked it with a thermometer and it was down around 120. I used to make eggiot and eggnog alike with raw eggs when I was a teen. Now I flinched and ran the mug through the microwave, only enough to get it up to food-safety range.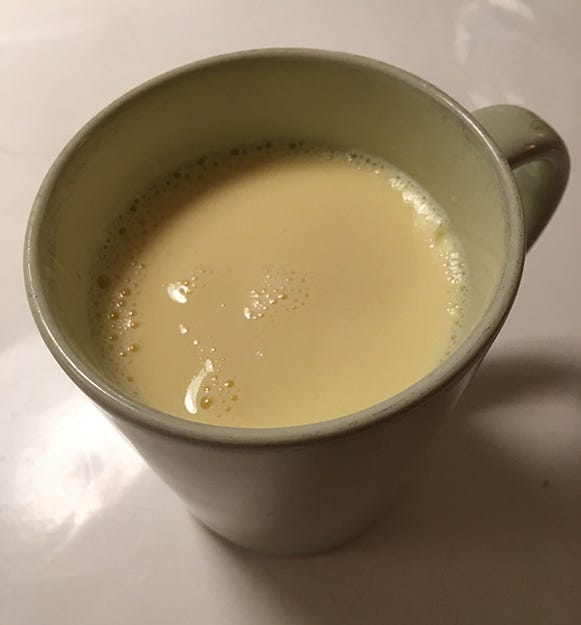 That was enough, it turned out, to tip it partway to custard. It went down sweet but heavily, and stayed there heavily. A little sweat broke out on my forehead. I did not feel picked-up, exactly. But by the time we got outside under the moon in the cold—the deep cold of the collapsing Arctic—the egg-bomb had worn off. I snapped three photos of the silver-tipped globe with the camera before the battery died, then tried and failed to take a picture with my phone through binoculars. The boy really wanted pictures, but the phone battery was plunging toward zero in the cold. After totality, with the moon now a disc and red spreading around the edge, I snapped one more with the phone, unmagnified. The rest will have to be memories.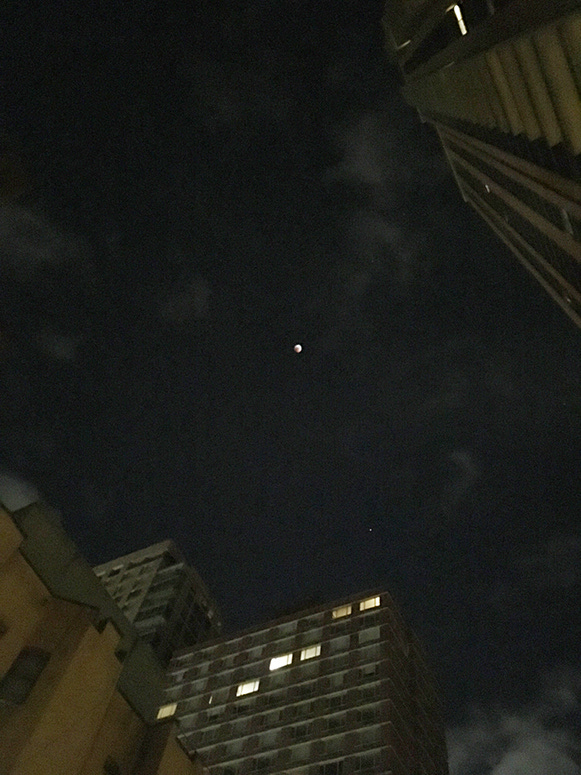 ---



Last Week on Hmm Daily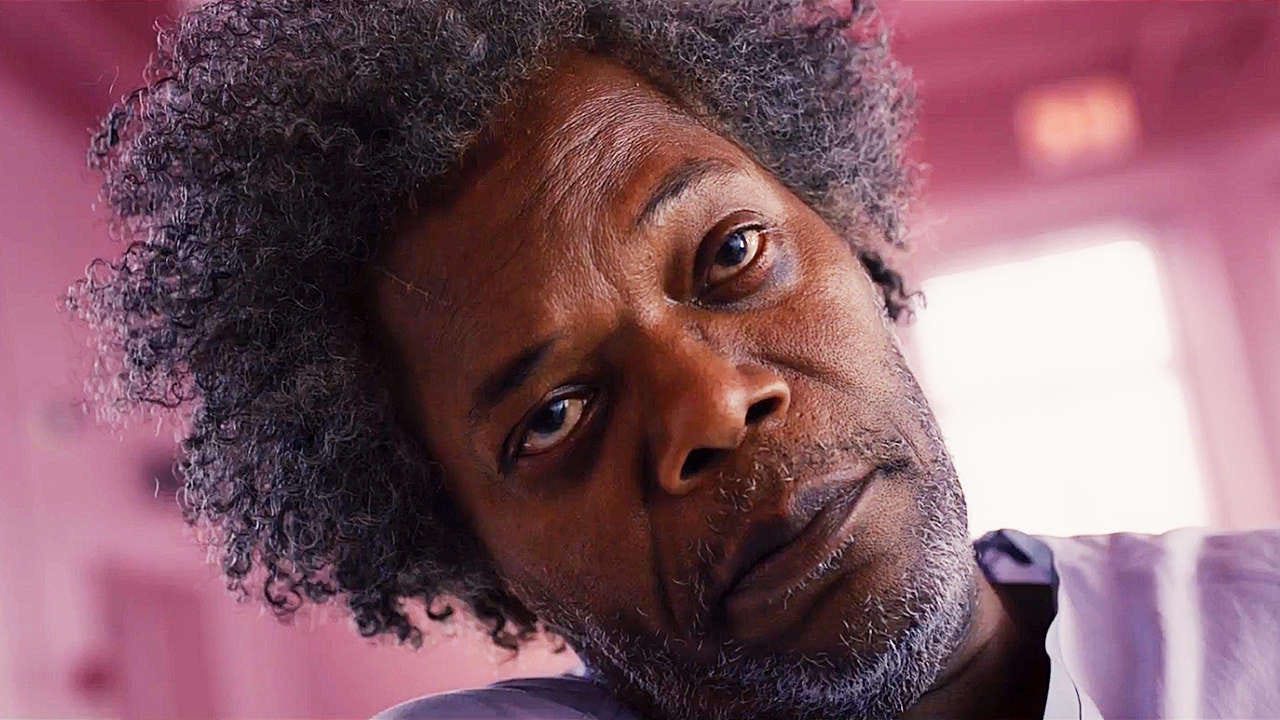 Samuel L. Jackson in Glass

Remember last week? Seems like it was only at least seven yesterdays ago that we entered the HOAGIE-VERSE, tracked a freedom-loving COW, and interpreted a MESSAGE FROM SPACE. Join us!

---






Nineteen Folktales: A Series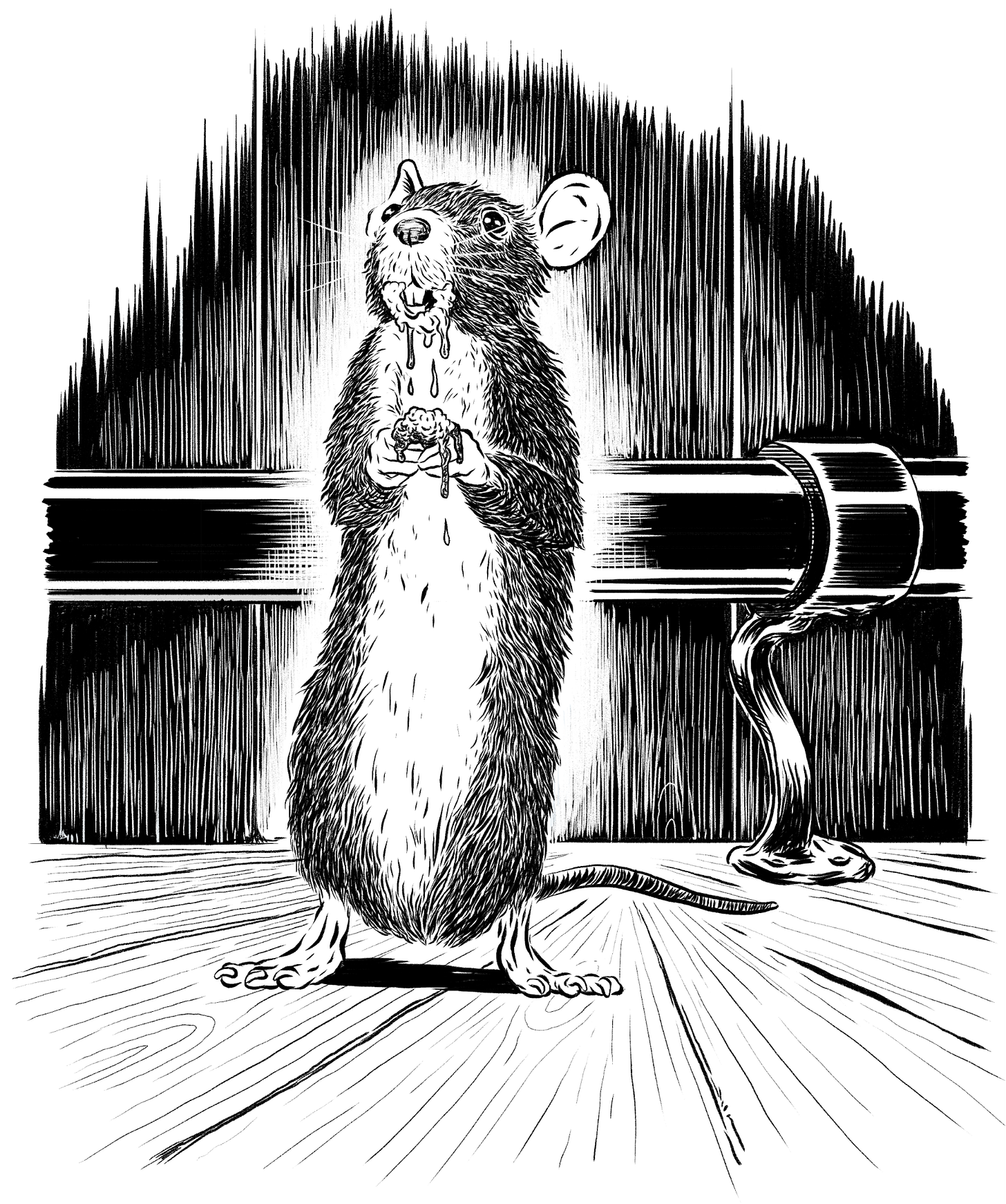 [Illustration by Jim Cooke]


2. A Drop of Ale

Two friends, a miller and a brewer, were sitting together in a tavern at day's end when a small, bedraggled mouse came limping along the floor between their feet. "Good fellows," said the mouse, "I am tired and greatly thirsty, and I was wondering of one of you might spare a drop of ale."

The brewer scoffed and turned away. "Be off, vermin," he said, and took a pull on his own mug. But the miller had pity on the mouse. He dipped his knife into his own drink and let a big, foamy drop fall to the little creature's mouth. The mouse lapped it up gratefully and licked its whiskers clean.

"Your kindness will not be forgotten, dear miller," the mouse said. "I pledge you this, that I and my fellows will leave your storehouse off our wanderings hereafter, and your grain shall be secure." And with a bow he excused himself.

"More than a fair exchange," the miller said to the brewer, when the mouse had gone. "Would that you had such security for your own barley."

The brewer shrugged. "I keep three cats," he said. "And beneath my floorboards lives a pair of rat snakes."

And neither man had trouble with mice.

---

***

HMM WEEKLY is delivered every Tuesday
to HMM DAILY supporters, members, and patrons ***
Our membership options, which you can choose and activate by going here, are as follows


Monthly Memberships
$5/mo. : Supporter - our GRATITUDE

$10/mo. : Monthly Member - our GRATITUDE and a HMM DAILY BUTTON

$25/mo. : Monthly Member Deluxe - our GRATITUDE, a HMM DAILY BUTTON, STICKER, and WOODEN NICKEL
Annual
$100/yr. : Member - a HMM DAILY BUTTON, STICKER, and WOODEN NICKEL

$250/yr. : Member Deluxe - MEMBER BENEFITS plus a PAIR OF DICE in HMM DAILY COLORS and ONE WORD MAILED TO YOU ON A PICTURE POSTCARD

$500/yr. : Patron - MEMBER BENEFITS plus a PAIR OF DICE in HMM DAILY COLORS, YOUR NAME ON OUR PATRONS PAGE, and ONE WORD MAILED TO YOU ON A PICTURE POSTCARD EACH MONTH

$1,000/yr : Colossal Patron - PATRON BENEFITS plus A SET OF STEAK KNIVES
Lifetime:
$5,000 : Lifetime Patron - COLOSSAL PATRON BENEFITS plus YOUR NAME IN LITE-BRITE GIF ON OUR PATRONS PAGE

$10,000 : Royal Patron - LIFETIME PATRON BENEFITS plus OUR TRANSIT BLOGGER, AGE 11, WILL COMPOSE A QUARTET FOR YOU

$50,000 : IMPERIAL PATRON - LIFETIME PATRON BENEFITS plus WE BURY 1,000 MINIATURE TERRA COTTA WARRIORS* IN YOUR NAME AT AN UNDISCLOSED LOCATION
* TERRA COTTA WARRIOR figurines may be in materials other than genuine TERRA COTTA.
Please join us!

***